Medical Marijuana Doctor Near Pompano Beach, FL
If you are looking to relieve your chronic pain caused by nerve damage or inflammation, come to Boca Medical Care and see our medical marijuana doctor.

Call

today for more information or schedule an

appointment online

!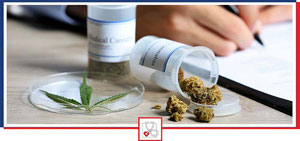 Table of Contents:
Who is eligible for a medical marijuana card?
What are the benefits of medical marijuana for pain?
What is the process of getting a medical marijuana card?
Chronic pain can be debilitating, and taking painkillers such as opioids can be dangerous. If you're looking for a safe alternative, then medical marijuana could be right for you! Call us today to see if you qualify for a medical marijuana card.
Who is eligible for a medical marijuana card?

Although cannabis remains illegal in the United States, many states have legalized cannabis for valid medical purposes. In order to meet the requirements for medical marijuana, patients must have a diagnosed disease or illness that is on their state's list of qualifying conditions for medical marijuana.

A qualified patient can obtain a medical marijuana card or authorization to visit dispensaries and purchase medical marijuana products with the recommendation of a local physician.

Some states may allow physicians to approve other medical conditions on a case-by-case basis that are not listed in the approved list. Qualifying conditions to obtain a medical marijuana card in Florida include:

• Cancer
• Epilepsy
• Glaucoma
• HIV/AIDS
• Post-traumatic stress disorder (PTSD)
• Amyotrophic lateral sclerosis/Lou Gehrig's disease
• Crohn's disease
• Chronic seizures
• Parkinson's disease
• Multiple sclerosis
• Medical conditions of the same kind or class as or comparable to those listed above
• Chronic nonmalignant pain
What are the benefits of medical marijuana for pain?

Medical marijuana is commonly known as a safe and effective treatment for chronic pain. Medical marijuana can be taken via smoking, eating, or oral sprays to reap the benefits. It has been shown to improve the quality of life for many who live with chronic pain. If drastic changes occur, they could pose a threat to your health. Therefore, medical marijuana should be used under the close watch of a physician.

Since medical marijuana lacks the side effects of traditional medications, it is highly desirable for reducing pain in those who are unable to take pills or receive injections. There is also little risk of dependency or the chance of overdosing, which makes it a much safer option than taking pain pills.
What is the process of getting a medical marijuana card?

Here are the requirements to get a medical marijuana card:

• Most states will allow people with debilitating illnesses such as epilepsy, glaucoma, cancer, AIDS and multiple sclerosis to request a card.
• Some states allow other conditions, such as muscular dystrophy, post-traumatic stress disorder (PTSD), hepatitis C and many others. You'll need to check your particular state's laws to see which conditions qualify.
• You must have a proof of residence, such as a driver's license or some other documentation to prove you actually live in the state where you're trying to obtain a medical marijuana card.
• You must find a doctor to sign your medical marijuana form. This can be a difficult process, as even in states where medical marijuana is legal, some doctors may still be hesitant to prescribe it. Such instances include, but are not limited to: the doctor may have moral reasons for not prescribing medical marijuana, they may choose to believe that there is a lack of scientific evidence to prove the effectiveness of cannabis, or they may feel they simply aren't qualified to make the decision themselves.

If you are suffering from chronic pain from an illness, disease or condition and are not able to take opioids or other painkillers, contact our office today to get in touch with a specialist. To book an appointment, call us or visit us online!